Akinator: Play With the Greatest Virtual Genie of All Time
Ever played the game Twenty Questions? It's a spoken parlor game that will bring fun to groups of friends during sleepovers or long boring trips. One player answers a series of questions about a subject and the other player should be able to get all the answer correctly. Simple yet fun, indeed! This thing is what Akinator the Genie offers in the game of his namesake available free for PC download.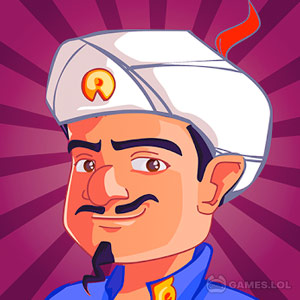 By
Elokence
| 0 downloads
In the Akinator game, you'll imagine a real or fictional character in your mind. With just a few questions, our trusted genie will tell you exactly who you're thinking. Prepare to feel shivery goosebumps all over your body as you see streaks after streaks of correct guesses. However mind you, this is not just a simple guessing game, because awards will come your way with every mysterious character and spot-on answer. If you ever wanted to be amazed at how one can easily guess your mind, you should meet Akinator. Just keep guessing, and the fun will not go away!
Think of the Best Characters in Akinator PC
As soon as you download the game, you'll immediately meet Akinator. He is the one you need to beat, and good luck with doing that! The game is simple: he'll try to guess the character you are thinking. Yes, you've read it right! This thing is a mental war. He is allowed to ask questions, which you may answer with basic yes-no options. He is also forgiving, as he will let you admit that you're not sure of the answer to his question. Then, before you realize it, Akinator already had an impressive result!
Don't Fret, He is Not Exactly All-Knowing
His success rate is impressively high that you will get challenged to get as inventive as you can. Choose from your favorite cartoons, anime, pop group members, or fictional idols! Discover how our tricky genie will find a way to make the right prediction! Hence, he may seem all-knowing, Akinator also commits mistakes. If he doesn't get it right the first time, he probably will on the second.
In addition, this game is enticing and engaging because of the anticipation and suspense of the genie revealing your mind! Aren't you just curious how he always seems to get the answer? Then, curiosity becomes a thrill as he gets to ask the near-miss questions. Finally, you are nothing but amazed. You will find yourself in love with probably the best virtual genie you could ever encounter!
Be Daring in Challenging the Genie
Akinator or Aki could also be teasing. He will challenge you to think more creatively. Plus, you either think outside the box, or he'll keep correctly guessing your character. Stroll down memory lane for forgotten characters, people yet to memorialized, or local personalities you think need more spotlight. When you do, our favorite genie is bound to give you free items.
Moreover, with each new game and correct guess from Aki, you will be given coins for use in the game. The less popular your character is, the more points you get awarded. One use of these coins is to customize Aki. Yes, you could change his hair, clothes, and accessories. Make him go to the Wild West or stay under disco strobe lights. Make him a geisha or a cunning vampire.
Get Creative While Playing
You could match it with backgrounds that you could personalize, too. Unleash your creativity in mixing and matching, then see if our genie's powers change now he's wearing something different. So, do as you please on how you want him to look like with your hard-earned coins. Also, the genie offers daily challenges to get awarded more points. Why not guess the top five DC villains, Pokemon characters, or talking dogs, and earn more for genie's every good tricks!
Never Stop Guessing for the Best Akinator Play
Once already absorbed in this fun game of mind reading, you will find it almost impossible to stop! Aki will keep on challenging you every day to find out mysterious characters and win individual awards. Yes, aside from coins, you may get special prizes for completing full daily challenges. One of these is the Gold Aki Award, one of the most prestigious awards in the game! Furthermore, There are also black and platinum awards you could keep collecting, so it's easier to challenge other players in the leaderboard or be inducted in the Hall of Fame!
Updates & More Features
Finally, Akinator also does not stop expanding. Thanks to recent updates, you may have movies and animals as themes in the guessing game. Also, the game embraces inclusivity. It has built-in settings to select one of the 16 languages you could play. It also has a child filter to make the game safe and appropriate for kids and a video-recording in-game feature for monitoring and review. Wow, Akinator PC keeps getting more durable and more reliable!
Lastly, this a fantastic game because of its astounding data basis and simple yet effective gameplay. Be impressed and entertained with anyone's guessing abilities, it's time to start the Akinator download process be blown away!
Game Features
Be caught in the suspense of the genie knowing your mind's secret

 

Get rewards for your every best mysterious character play

 

Customizable get-up and background for Aki

 
Award boards and hall of fame to keep track of collections and achievements

 

Inclusive gameplay, with options for child filter and language selection

 
Download & Play Akinator on PC FREE now!